Domestic All-In-One Heat Pump
Solution for Domestic Hot Water
Compact All In One Heat Pump - Technical Specifications
| Model No. | VET-2 HP AIO |
| --- | --- |
| Power supply(V/P/Hz) | 220-240/1/50 |
| Water Tank Capacity(L) | 60 |
| Rated Heating Capacity(KW) | 6.5 |
| Rated Input Power(KW) | 1.64 |
| Current (A) | 7.6 |
| Max Input Power (kW) | 2.1 |
| Max Current | 10.1 |
| Heating Element(KW) | 1.5 |
| Total Max Input Power(kW) | 3.6 |
| Refrigerant | R1234ze / 950g |
| Heat Exchanger | Tube In Tube |
| Built-in Ciculating Pump | RS15-6 |
| Rated Hot Water Temp(℃) | 55 |
| Max Water Outlet (℃) | 70 |
| Water Connection (mm) | DN20 |
| Noise(dB) | 52 |
| Weight(KG) | 88 |
| Net size(mm) | 880*500*730 |
Introducing the Domestic All-In-One Heat Pump, a state-of-the-art heating and cooling solution designed to revolutionize home temperature management. This innovative system seamlessly integrates efficient heat pump technology with a hot water storage tank, simplifying installation and operation while maximizing energy savings.
The Domestic All-In-One Heat Pump efficiently extracts heat from the surrounding air and transfers it to water, providing consistent, comfortable temperatures for your home. With its energy-efficient design, this Vedal Domestic heat pump significantly reduces your carbon footprint and lowers utility costs compared to traditional heating systems.
One of the standout advantages of the Domestic All-In-One Heat Pump is its space-saving design. By combining a heat pump and water storage tank into as a compact unit, it eliminates the need for separate installations, freeing up valuable space in your home. The all-in-one design also simplifies maintenance, as you only need to service one unit rather than multiple components.
Another key benefit is the system's versatility. The Domestic All-In-One Heat Pump is suitable for consisitent and uniterupted hot water supply. This adaptability allows homeowners to tailor the system to their specific needs, ensuring optimal comfort and efficiency.
The Domestic All-In-One Heat Pump features an intelligent control system, giving you complete control over temperature settings and scheduling. The user-friendly control allows for easy customization of heating preferences, and the system's advanced features can even help you reduce energy consumption during peak demand periods.
Safety is a priority with Vedal Domestic All-In-One Heat Pump. The system incorporates multiple safety features, including temperature and pressure sensor. These safeguards ensure the unit operates safely and efficiently, providing peace of mind for homeowners.
In addition to its impressive performance, the Domestic All-In-One Heat Pump boasts a sleek, modern design that will blend seamlessly into any home. Its low noise operation ensures minimal disturbance, making it an ideal choice for families and those who value tranquility.
In conclusion, the Domestic All-In-One Heat Pump is an innovative, efficient, and cost-effective solution for homeowners seeking a sustainable and reliable water heating system. Its advantages, including space-saving design, versatility, intelligent control, and safety features, make it an attractive choice for today's eco-conscious consumers. Experience the future of home temperature management with the Domestic All-In-One Heat Pump.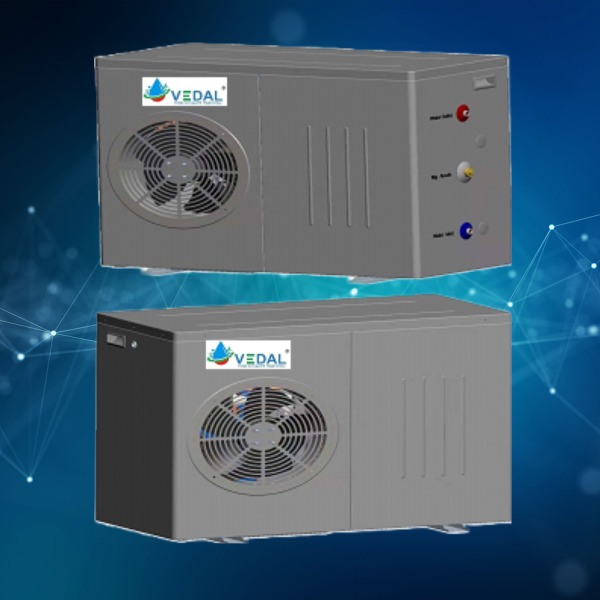 VEDAL ENERGY TECHNOLOGIES
Reliable & Trusted Solutions
Vedal Energy Technologies