All-in-one Air Source Heat Pump Water
All-in-one Air Source Heat Pump Water Heater 200L
All-in-one Air Source Heat Pump Water Heater 200L (COP 4.25)
| Model | VET-200-AIO |
| --- | --- |
| Rated Volume | 200 Liters |
| Inner tank material | Enameled Steel (Thickness 2.5mm) |
| Outer casing | Painted galvanized steel |
| Insulation | Polyurethane foam, 45mm |
| Working Temp. | -5~45°C |
| Color | Grey or White |
| COP(W/W) | 4.25 |
| Power Type | ~220-240V / 50Hz |
| Heating Capacity (W) | 1780W |
| Produced Water | 38L/h |
| Max. Water Temp. | 75°C |
| Max. Working Power | 3270W |
| Max. Working Current | 16A |
| Rated Working Power | 420W |
| Electric Heater Power | 2500W |
| Water pressure | 0.8 MPa |
| Noise | 40 dB(A) |
| Refrigerant | R134a/860g |
| Compressor | Panasonic |
| Throttle Component | Electronic Expansion Valve |
| Suction/ Discharge Pressure | 0.7/2.6 MPa |
| Low/High Side Working Pressure | 0.7/2.6 MPa |
| Condenser | Micro-Channel Heat Exchanger |
| Max. Pressure Heat Exchanger | 3.0 MPa |
| Water inlet/outlet | G3/4" |
| Control Method | Touch screen |
| Product Size | Φ525×1955 mm |
| Packing Size | 600×600×2050 mm |
| Net Weight | 114 Kg |
All-in-one Air Source Heat Pump Water Heater 300L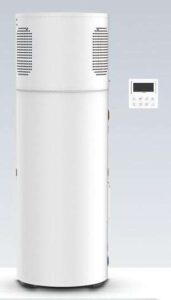 | MODEL | VET-300-AIO |
| --- | --- |
| Rated Volume | 300 Liters |
| Inner tank material | Enameled Steel (thickness: 2.5mm) |
| Outer casing | Painted galvanized steel |
| Insulation | Polyurethane foam, 50mm |
| Working Temp. | `-5~43°C |
| Colour | Grey or White |
| COP(W/W) | 4.0 |
| Power Type | ~220-240V / 50Hz |
| Heating Capacity | 3300 |
| Produced Water | 75 L/h |
| Max. Water Temp | 75⁰C |
| Max. Working Power | 4000W |
| Max. Working Current | 19A |
| Rated Working Power | 827W |
| Electric Heater Power | 2500W |
| Water pressure | 0.8 MPa |
| Noise | 48 dB(A) |
| Refrigerant | R134a/1050g |
| Compressor | Panasonic |
| Throttle Component | Electronic Expansion Valve |
| Suction/ Discharge Pressure | 0.7/2.6 MPa |
| Low/High Side Working Pressure | 0.7/2.6 MPa |
| Condenser | Micro-Channel Heat Exchanger |
| Max. Pressure Heat Exchanger | 3.0 MPa |
| Water inlet/outlet | G1" |
| Control Method | Wired Remote Controller |
| Product Size | Φ650×1950 mm |
| Packing Size | 705×705×2010 mm |
| Net Weight | 129 Kg |
All-in-one Air Source Heat Pump Water Heater 450L
| Model | VET-450-AIO |
| --- | --- |
| Rated Volume | 420 Liters |
| Inner tank material | Enameled Steel (thickness 2.5mm) |
| Outer casing | Painted galvanized steel |
| Insulation | Polyurethane foam, 50mm |
| Inlet / Outlet size | G1" |
| Color | Grey |
| COP(W/W) | 4.08 |
| Power Type | ~220-240V / 50Hz |
| Heating Capacity(W) | 5300W |
| Produced Water | 118L/h |
| Max. Water Temp. | 75 ℃ |
| Max. Working Power | 5000 W |
| Max. Working Current | 23 A |
| Rated Working Power | 1300 W |
| Electric Heater Power | 2500 W |
| Water pressure | 0.8 MPa |
| Noise | 45 dB(A) |
| Refrigerant | R134a/1150 g |
| Compressor | Panasonic |
| Throttle Component | Electronic Expansion Valve |
| Suction/ Discharge Pressure | 0.7/2.6 MPa |
| Low/High Side Working Pressure | 0.7/2.6 MPa |
| Condenser | Micro-Channel Heat Exchanger |
| Max. Pressure Heat Exchanger | 2.6 MPa |
| Control Method | Wired Remote Controller |
| Weight | 207 Kg |
| Product Size | 735×1006×1720mm |
| Packing Size | 865×1150×1880mm |
In an all-in-one heat pump water heater, the heated refrigerant is usually conveyed through a heat exchanger that's wrapped around the outside of the tank, under the insulation. The refrigerant heats the tank by conduction, transferring heat from the condenser coil through the tank shell, to the water inside.
Heat pump is a device in which the refrigerant R134a is continuously changing the shape from gas to liquid. It pumps out the solar energy from the air in the room and together with electrical energy consumed by compressor it gives out the total heating capacity which is accumulated in the water storage tank. Evaporator is an air-refrigerant heat exchanger. In the evaporator the refrigerant is vaporized at low pressure and relative low temperature. Because of vaporization the heat transfer form air to refrigerant starts.
Vaporized refrigerant comes in the compressor where the pressure goes higher and also the temperature. From compressor the vaporized and high temperature steam goes in the condenser (refrigerant-water) where again the heat is transferred from refrigerant to water. The refrigerant is now in liquid shape idler high pressure.
After it flows thought the expansion valve it reaches the basic shape and he process goes around again. The circuit is in process until the water temperature in the water storage tank reaches the set point
Enamel Water Tank Brings You Healthier Water Quality

High pressure and fatigue resistance which pass 280,000 times pulse test.

High corrosion resistance because enamel coating makes the welding line of steel plate separate with water, so with long working life
Library Level 40dB Silence

Centrifugal fan, smooth air intake
Double plate air guiding, optimizing air duct
Double layer soundproofing, reducing radiation
Double piece evaporator makes it more optimized
Intelligent Control Electric Expansion Valve

The electric expansion valve can control the refrigerant volume more accurately to ensure the unit stay in the best state.
High efficient Micro-Channel Heat Exchanger

Larger heat exchange area, Better heat transfer effect and More durable performance.

The energy efficiency grade of the system can reach 4.2 even above.

Not touch with water in the water tank, so the heat exchanger has no risk of corrosion, scaling, leakage, etc.
♦ High Efficient Compressor

Being internationally-renowned brand dedicated compressor for heat pump, it is more reliable in system matching and quieter in operation.

♦ Intelligent Defrosting

With intelligent defrosting design, it can revolutionarily solve the bottlenecks of heat exchangers in cold winter such as frosting and slow heating, etc., allowing you to spend a more comfortable winter.

♦ 1:1 Gold Ratio

The unit and water tank are matched with a gold ratio to eliminate the phenomenon of disharmony, so that it is more energy-saving and professional.
Smart and Convenient Touch Control

Intelligent light display
Warranty Period:
2 years for electronic components;
3 years for the compressor.
5 years for water tank
VEDAL ENERGY TECHNOLOGIES
Reliable & Trusted Solutions
Vedal Energy Technologies